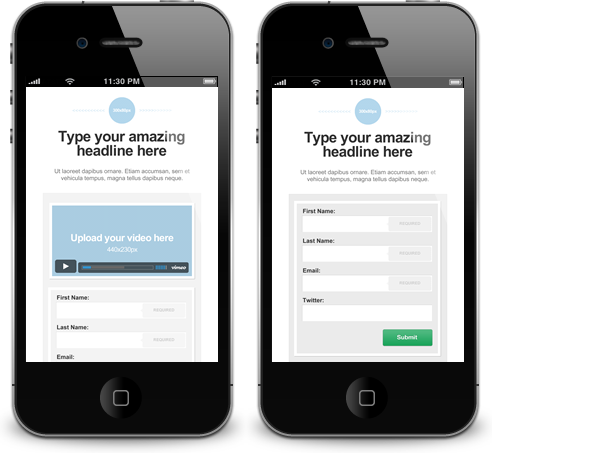 Getting a great number of leads and traffic from your affiliate sites into your landing pages won't be enough to make a successful affiliate program. As a merchant or affiliate manager, it is your job to convert these leads into actual sales. With this in mind, it is downright essential for you to optimize your landing pages for mobile use. When it comes to improving your program's conversion rates, optimizing your mobile landing pages is by far one the best and most reliable solutions.
The importance of having an optimized landing pages for mobile
Growth of mobile internet usage. Mobile devices, tablets and Smartphones are quite prevalent these days. The number of consumers using these devices continues to increase every year. Apparently, this increment comes a growth in internet mobile browsing as well. With that said, it is by far imperative for affiliate managers and merchants to optimize their landing pages. Otherwise, they will lose a tremendous amount of customers.
Mobile optimized pages have become a necessity. Optimized landing pages are not a luxury anymore. As mobile technology continues to progress, having an optimized site or landing page has become a necessity for affiliate managers and publishers. If you want your website to remain attractive, competitive and relevant, you have to give your consumers a site or landing page that can be easily accessed through a variety of mobile devices.
As reported by Google a couple of years ago, mobile optimized websites and landing pages will perform better and more efficiently in Adwords than the ones that are not optimized for mobile use. Hence, an optimized landing page will increase the number of traffic and leads coming to your page.
A landing page that is not optimized for mobile devices will shape a customer's opinion of a company or brand in a negative way.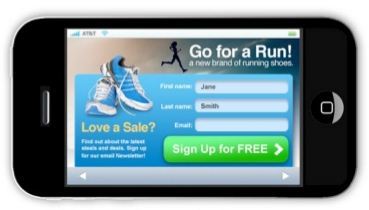 A poorly optimized landing page will discourage the consumer from responding to your CTA, whether it is by subscribing to your newsletters or buying your products. A study conducted by Google Mobile Ads suggested that nearly 80 percent of your landing page visitors are likely to respond to your CTA if your site is optimized.
landing page mobile optimzation
Now that you know how important mobile optimized landing pages are, let's move on to the ways in optimizing your landing pages for mobile use.
Simple mobile landing pages
Mobile landing pages do not have to be flashy. As a merchant and affiliate manager, you should create a landing page that can be easily opened on Smartphones and mobile devices. That's why you should avoid using plug-ins, PNG-24 images, frames, and flash. Basically, these website features will slow down your mobile landing page's loading speed.
Instead of using these website features, it's wise that you use options that are friendly to mobile phones, such as GIF and JPG formats, as well as jQuery and HTML5. Likewise, make sure to scale the objects, so they can fit your landing page.
Reduce the page's data size
Your mobile landing page should not load more than five seconds. Otherwise, consumers will lose interest in your page's contents and products. A recent online research suggested that more than 60% of mobile users want a landing page or website to load in four seconds or less. Furthermore, the research stated that 80% of Smartphone users expect mobile pages to load in five seconds.
In this case, the data on your mobile landing page must not go beyond 20KB, to help speed up the load time of your landing page. As mentioned, you should also remove flash and unnecessary features that will hinder the loading speed of your landing page.
Tools to help you create superior and optimized mobile landing pages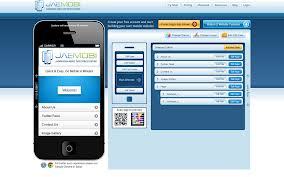 There are a lot of tools you can use to create a mobile landing page for your affiliate program. Here is a list of some of the most popular and commonly used tools in creating mobile websites:
Google Sites – This tool allows you to build professional mobile websites and landing pages within a few minutes. In addition, this tool is available for any affiliate marketer for free. By far, Google Sites is one of the best and most effective mobile landing page programs available on the internet.
Jaemobi – A sophisticated mobile landing page and website builder that comes with a simple and manageable interface.
Atmio – This tool allows affiliate managers to create optimized and targeted mobile media advertisements for their landing pages.
Spark Page – This tool comes with an array of testing options, templates, metrics and designer tools. What's more, you can easily use this tool, even if you are not an expert in coding.
Convrrt – This mobile website builder is fairly easy and to use. With this tool, you can easily create personalized CTA buttons, videos and graphics.
Mobile landing page tools
Large and structured fonts
Font sizes can make a huge difference in your mobile landing page. When creating a mobile landing page, you should create legible and large texts, so users would no longer have to zoom in on their mobile devices. Trust me, you do not want to have your consumers discern and squint the texts in your landing pages. For that reason, your fonts should be 14 or more in size.
Aside from the size, your fonts should also be less stylized and well structured. Here are some of the most effect font styles you can use for your mobile landing page:
Arial
Bitter
Aller
Museo
Mayberry Pro
Myriad Pro
Helvetica
Adobe Gothic Std
Landing pages that scale
Compelling landing pages are practically useless, if they do not scale to all kinds of mobile gadgets on the market today. Scaling a landing page, however, can be a bit perplexing and challenging. Basically, there are more than 500 various screen sizes available between tablets, Blackberry, Windows phones, iPhones, and Android models.
To scale your landing pages, make sure to consider these tips:
Your landing pages should scale to portrait and landscape views alike.
If possible, avoid using flash videos or coding your landing page, as they won't load on some mobile devices, specifically the iPhone and iPad units.
Create landing pages in HTML 5, as it can solve a lot of problems with mobile flash.
Add images that easily convey your message
Mobile devices are visually tight on space. For that, it is essential that you choose images that can quickly digest the message on your landing page. In mobile internet browsing, a good image can say a lot about your products and company.
While choosing images for your landing pages, take note of these pointers and guidelines:
Choose images that will captivate your audience's attention. In addition, make sure that these images blend well with your background.
Avoid using abstract images for your page's background.
Do not use clashing and harsh colors for your background and image. Yellow, neon and other similar colors do not make your page visually appealing.
Concise content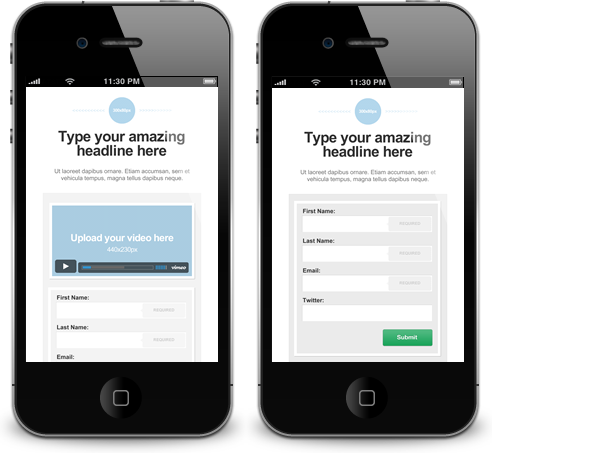 Avoid having a landing page that is cluttered with texts. Consumers, for the most part, do not like reading long and lengthy messages. Furthermore, you do not have an ample amount of space to persuade readers with lengthy texts and messages. For these reasons, your landing pages should only contain the essentials.
When creating content for your landing page, take note of these pointers:
Create memorable and catchy phrases that consumers can easily repost and tweet on their social networking accounts.
Descriptive and short sentences.
Avoid using paragraphs. Instead, use bullet points.
Include a short review or testimonial from a happy and satisfied client.
A clear CTA (Call to action)
Your landing pages must have a very apparent CTA (call to action). If your CTA is somewhat confusing, chances are your customers won't respond to it. Aside from having a clear CTA, the page's CTA must be relevant to the affiliate site that diverted the consumer to your landing page. If not, the consumer will think that your page is a scam or pop-up.
Reduced CTA options
Your CTA options must not go beyond three. If possible, only offer one CTA option on your landing page. As you reduce your CTA options, your page visitors will get a more efficient and focused experience, which could boost your program's conversion rates.
Testing and tweaking
As a merchant and affiliate manager, it is your responsibility to determine the latest trends in mobile shopping and browsing. Hence, you should constantly test your mobile landing pages, and make the necessary tweaks to make more productive and profitable.
Performing an A/B or test would do wonders for your affiliate program. With this testing procedure, you will be able to determine which combination of the page features (CTA, layout, color schemes, creative, etc.) would work well for your landing page.
test and tweak landing pages
Apart from A/B testing, you may also take advantage of analytic tools like:
Optimizely
Conversion Voodoo
Concept Feedback
Google Analytics
Website Optimizer