This is a guest post by Nick Lewis. Nick specialises in copywriting and SEO for Brighton digital agency Bozboz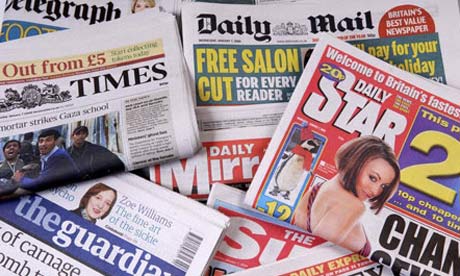 Newspapers selling links is the latest open secret in SEO. Typically going for enormous prices (reflecting the link juice that comes with them), some newspaper groups stick to 'sponsored' sections in sidebars, whilst others are more cavalier about embedding in existing content, or even offering advertorial space.
The Good
The good news for SEOs is that if newspapers start selling links, then with enough budget, newspaper links are suddenly a whole lot more attainable. Newspaper links carry the same sort of weight as a link from a .gov or .ac domain.
The appeal to newspapers is just as clear – with the challenge to their monopoly on the news scooping out enormous swathes of their sales and advertising revenues, selling links is a potentially very lucrative way to plug that gap. After all, there may be less money to be made from producing a newspaper but the cost remains roughly the same.
 The Bad
However, there are downsides for both newspapers and the SEO industry.
Quite frankly, the last thing the SEO industry needs is another opportunity to buy links, the interwebs is awash with PBN sites used for selling links. The more this practice abounds, the more the SERPs become little more than a financial arms race, making them less useful for users and businesses alike.
For those newspapers unscrupulous enough to sell links embedded into existing content or brazen enough to sell advertorial space the objectivity of their reporting may also come into question. Given the proliferation of free news sources online, the primary USP of newspapers these days is their expertise – if that becomes uncertain there will be little hope for them.
The Ugly
The big worry with newspapers selling links is that Google will get wise and downgrade them. Given that minor downgrades have already been suffered by two British newspapers this is not an insignificant concern.
Downgrades would mean that newspapers could sell links for far less, if at all, resulting in further lost revenue. It would also mean they might start losing ranking battles – meaning less traffic and less advertising revenue to boot. By selling links newspapers are gambling their existing online revenue streams.
Just as bad for SEOs is that any downgrades will be fairly indiscriminate, and hard-won, existing links will suffer as a result. Some papers desperate to comply with Google requests may even remove links placed organically in their clamour for appeasement.
The long and the short of it
So should newspapers sell links? It's up to them of course, and it's easy to see why they would. However, the risk with both buying and selling links is that the short term gain will be outweighed by the long term cost, and the papers have an awful lot to lose.